How were we getting along without emoji? Not so long ago, any use of such emotion symbols by brands was out of the question.
No decent brand would end his message with a happy face. A stock image as the background was as much as it would use to at least somehow establish an emotional contact with you to actuate your mirror neurons.
Gradually, emoji became more and more involved in our lives, as a graphic facial expression would help convey a whole bunch of information. That's why emoji became so popular. Think how you tried to figure out the emotional meaning of a simple phrase of your interlocutor.
It was the emoji that began to address the real problem of the lack of emotion in messaging. Penelope Brown and Stephen Levinson's politeness theory gives us a more scientific understanding of it.
Emoji in the form of emoticons (emotional emoji) are used by people in an ambiguous situation that can be perceived in both a positive context and a negative one. In real life, it's the facial expression that is the determining factor. But in messaging, it is very important for us to use emoticons to avoid further ambiguities that can escalate into problems.
Therefore, it is not surprising that brands that build up on social media have learned to apply emoji in an attempt to establish a stronger emotional connection between the brand and the customer (as well as avoid ambiguities).
But as that can be, some are too carried away, forgetting about the framework of communication. You are still a brand with a certain positioning. You can't communicate using as much emoji as possible all the time. Don't forget that the original function of emoji was to make your message emotional enough to save it from ambiguity.
In order to understand which emoji are appropriate and which are not, you have to turn to sociolinguistics. The register of your appeal varies depending on the situation. Simply speaking, the manner of your communication with your friend differs from that of business negotiations.
If you position your brand seriously, you can't use an eggplant emoji, even using it appropriately in addressing an audience that perceives a message of the sort. In the long term, such communication will negatively affect the positioning of your brand. Therefore, you definitely should use the opportunity to insert a simple emoticon in the form of a happy face if the context allows it. You shouldn't experiment with more specific emoji yet.
Face emoji are effective for positive or negative reinforcement. Evolutionarily, we tend to discern faces in the surrounding space. It's called pareidolia. I detailed this peculiarity in my article on the use of laughter and humor for the brand.
Even when we just notice a person, we automatically look primarily at his/her face. Evolutionary psychology explains it by the fact that in this way, we increase our chances of survival, since a person's face expresses his/her intentions. If his/her face is angry, it is better to keep from the person as far as possible.
The study by the Australian scientists led by Owen Churches revealed that our brain processed emoticons the way it did real faces.
So for instance, in the UK, simple emoji (emoticons) were used on the roads back in 2003 to quickly demonstrate to drivers whether they exceeded speed or not. If they didn't, a happy face emoji was seen. If they did, they saw a frustrated one.
It enables the brain to quickly and efficiently process the message. Instead of analyzing the information about the speed received by the brain, the driver has got a simple emoticon to quickly show him/her whether everything is okay in his/her actions. So the processing speed increases, which can be critical for drivers.
Likewise, they used emoticons in the Netherlands and Belgium. In 2017, this principle was adopted in the Australian city of Cairns.
As we can see, emoji help us not only establish an emotional connection but also process the message more quickly. Emoji caught on to the extent that now it's difficult to imagine a business communication without them. One thing to notice is that business correspondence between colleagues welcomes emoji, whereas the communication with top management of a company still requires adhering to a strict ethics.
Statistics indicate that 76% of Americans use emoji in digital communications to people in their professional life. The most popular among the emoji is a happy face. It is used in 64%t of cases and is followed by thumbs up, with 16%.
These statistics only confirm that in business correspondence, emoji are used in most cases to avoid an ambiguous situation. It was confirmed by Karianne Skovholt's study.
However, the way you use emoji in business correspondence or on social network is not the only thing important to understand. The difference in emoji display on different platforms is able to negate all the benevolence you wish to express.
This issue was addressed at the University of Minnesota. The researchers did not just demonstrate the difference between the same emoji on different platforms but also measured the attitude toward it.
A grinning emoticon turned out to be the most problematic.
Depending on the technology and social network's producer, a grinning emoticon can be perceived by people both positively and negatively. It's another argument in favor of the fullest possible use of the simplest emoticons, as they will allow you to avoid ambiguity, rather than create one.
Furthermore, a simple difference in the display of emoji is able to create a potential paracrisis for the brand, which is the likelihood of a full-fledged crisis situation.
We just can't do without Real Madrid CF when providing bad examples. The digital team of the club don't demonstrate the most responsible attitude possible toward their work and the club's brand.
Those who work for Real are likely to have heard some rumor that emoji should be inserted and hurried to apply their newly obtained knowledge in practice. Not only did they post eight 50-minute videos in an instant, but the videos were in Spanish and had got an identical emoji each.
The way Real Madrid CF maintain their YouTube channel clearly has a negative impact on the club's brand, especially when there is a better example of FC Barcelona.
The Catalan club experimented with emoji in their video titles, however, apparently decided to abandon the thing. Barcelona's marketers came up with a more original application of emoji – they made a series of videos in which the club's current and former football players assigned a specific emoji to their teammates.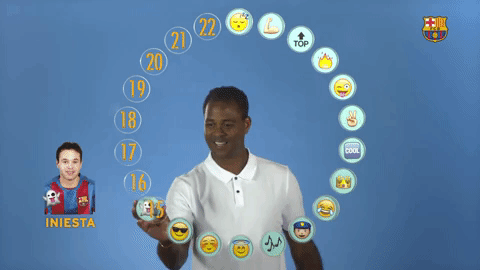 On Twitter, the iTunes account makes a proper use of emoji. If they can convey the meaning of a movie or series using emoji, they do it.
Conclusions: considering that our brain perceives emoji in the form of emoticons very similar to faces, we have to be as careful as possible in using negative emotions, so as not to harm the brand. Nevertheless, a happy face emoji can be used not only for getting rid of ambiguity in the message but also for any other context-appropriate case.
If your brand is not in a specific niche with a homogeneous target audience, you shouldn't use emoji other than the simplest emoticons; otherwise, you can affect your brand negatively.
But generally, I'm sure you should use emoticons. According to the study by Simo Tchokni from the University of Cambridge, "there is a strong link between emoticon use and social power."
Do you want us to consult your brand, develop a strategy for you, and help you with implementing it? Write to us at E-mail leon@sportsneuromarketing.com, and we will reply within 24 hours.
Best regards,
Leon The Alien
Subscribe to our cool E-mail newsletter, and start following me on Twitter.
SEE ALSO: How to create agiotage around your brand
Images: rawpixel, SparklingStuffStudio, University of Minnesota, FC Barcelona