Positioning of MLS has clear boundaries. MLS builds a big league, which may simply be uninterested in some segments of fans (just as MLS is uninterested in some clubs). However, given the large booming market of football in the US and Canada, it is these segments of fans that can form the basis for NASL and USL to succeed.
Let's be honest, NASL and USL have got enough problems. Including those that MLS previously used to have. But it's a natural process. Especially since NASL and USL have rather attractive prospects for development.
Let's get to the segments and zones MLS is forced to place lower priority on in its marketing strategy. As it is here that NASL and USL should be trying to find their success.
1. Generation Z. I've got no official data on the target audience of MLS, but unofficial data suggests that Generation Y greatly prevails over Generation Z.
MLS interacts with the older part of Generation Y perfectly well, but for obvious reasons, the league is unable to interplay equally effectively with Generation Z and the younger part of Generation Y.
Why? Look at the way NFL, NBA, and MLB are interacting with Generation Z. They apply quite expensive approaches (such as TV series and eSports sponsorship). There exists a good research concerning eSports, so I'm not going to delve into the topic.
Creating TV series is an excellent example of priming employment. I have already prepared a detailed article on priming, since it is one of the most interesting and effective tools in neuromarketing. Subscribe to my Twitter, so you wouldn't miss it.
MLS interacts with its target audience extremely well, doing without costly investments. It can be assumed that ROI of MLS in this direction is very high compared to approaches of NFL, NBA, and MLB.
The decision to create KickTV is a kind of a very curious tactics of MLS to attract new fans to the league. There are actually a whole lot of other examples of the kind. That's why I hold the marketing of MLS up as an example for European football clubs. The league itself, as well as MLS teams use a large number of seemingly insignificant marketing decisions that ultimately make a difference.
NASL and USL may take advantage of the fact that the current target audience of MLS does not allow them to make an equally effectively appeal to Generation Z. NASL and USL have a chance to implement courageous decisions in interacting with Generation Z, without experiencing negative consequences. Such big leagues as MLS, NFL, NBA, and MLB can not afford it.
2. Emotions. It is a problem that is more or less characteristic of a number of MLS teams. Other MLS teams, on the other hand, have things in this regard going so great that it may well be envied by many. But it would be unwise not to take advantage of problem MLS teams.
I repeatedly described earlier the way to organize interaction with fans on the basis of awareness of the way human brain operates. Approaches of the kind help sports marketing develop.
Combining of common sports marketing and neuroscience (sports neuromarketing) has enabled me to confront in a completely different way the challenges which seemed hard earlier. I'm not talking about manipulation. I'm talking about understanding how to organize interaction with fans, to get the most effective win-win result for both the club and the fans.
3. Europe. It is known that the European market is interesting for MLS. But let's be honest, it is difficult to give effect to this interest for a number of reasons.
It's not so easy for Europeans to understand MLS format. NASL has got a format which is in some ways easier to understand. Live broadcast of MLS games coincides with night time or late evening time in Europe, the Europeans though having an interest in new content (especially from the US). And it is quite possible to find some ways to compromise, as they do in European leagues for Asia.
It must be hard for MLS to compromise for a number of reasons, but why don't NASL or USL do it?
4. The image of the enemy. All previous choices were limited to the maintenance of good relations between MLS, NASL, and USL. I previously wrote in my blog that the image of the enemy is too easy a solution. But at the same time, it is one of the most effective (thanks to evolution). Especially if it just so happens that the leagues are doing better in not having their finest relations.
It's a win-win situation for everyone. MLS gets its audience and continues to move toward its goal of one of the top leagues in the world. NASL and USL assume their sizable parts with a large enough number of MLS-strategy-disliking fans. Why not create a whole league with emphasis on fans' emotions (see point 2)?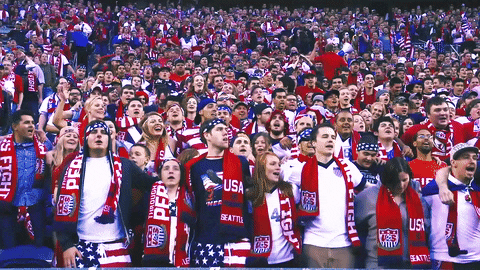 The effectiveness of creation of the enemy image was realized a long time ago, whereas the understanding of why it is so effective was brought to us only along with the development of neuroscience and evolutionary psychology.
The Department of Defense has actively participated in the development of comprehension of this process. While they use it for military purposes, marketing can apply the results of their work to resolving peaceful issues.
If you want to know more about the image of the enemy efficiency, having provided some information earlier, I've already prepared an article with a more detailed address of this method. Subscribe to my Twitter, not to miss it.
Folks thanks for your attention! The next issue of my blog is traditionally scheduled for Monday. And it will traditionally be #AlienForMLS, with me as Dr. Leonard McCoy proceeding with resenting the marketing of New York MLS teams.
Best regards,
Leon The Alien

Subscribe to my Twitter account and our awesome E-mail delivery! See you later, earthlings!
Images: Pexels, Giphy